Bald Hill Amphitheater | Farmingville, New York
This summer, if you're looking for an exciting music event that can have you singing and dancing all night, you should check out the highly-anticipated Fiesta Latina! Happening in Farmingville, New York, the Latin music fest features a myriad of incredible performers, ranging from salsa bands, vallenato groups, cumbia outfits, and plenty more! On Saturday, 15th July 2023, Fiesta Latina will light up the Bald Hill Amphitheater with outstanding live music performed by illustrious acts, such as Orquesta Guayacan, Binomio de Oro, La Sonora Dinamita, DJ Pereira, and DJ Camilo! All these performers hail from the beautiful country of Colombia, where music represents great cultural significance! If you're looking for a great party, this is your chance to celebrate music and have a gastronomical experience as if you're in the heart of Colombia! Hurry and secure your tickets now to Fiesta Latina at the Bald Hill Amphitheater!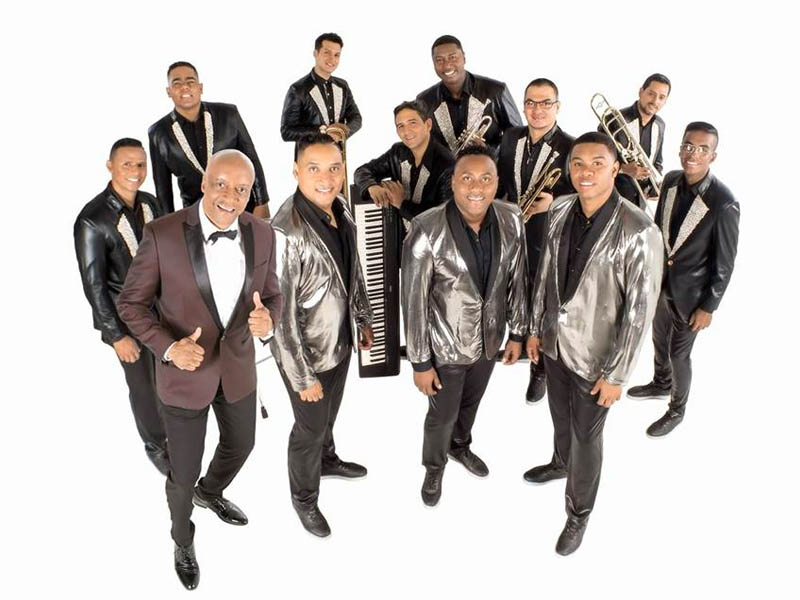 Guayacan Orquesta specializes in incredible salsa music. The band was founded by former Grupo Niche member and co-founder Alexis Lozano. The band also comprises esteemed music producer, arranger, pianist Israel Tanenbaum, and conga player Ostual Serna. Since forming in 1983, the band has grown to 11 members, including seven vocalists. The group released their debut album, Llego la hora de la Verdad, which spawned the hit "Vas a Llorar." The band dropped their second album, Que La Sangre Alborota, featuring hits. "Por Bocon," "Son cepillao con minue," Vete," and "Nostalgia Africana." The band released 16 efforts, including their compilation album, 25 Años 25 Exitos 25 Artistas (25 Years 25 Hits 25 Artists).
Colombia vallenato group Binomio de Oro de América has become one of Colombia's most established folk music bands. The band has become popular in other territories, such as Mexico and Venezuela. Binomio de Oro de América was founded by lead singer Rafael Orozco and accordionist Israel Romero, both hailing from the Caribbean Region. The band has released 20 albums, which spawned several iconic hits, such as "Amanecemos Parrandeando," "Digan lo que digan," "Cariñito de mi vida," "Presentimiento," and "Adelante."
Cumbia/salsa powerhouse La Sonora Dinamita has become one of Latin America's most popular Colombia groups. The Orchestra was founded in 1960 by band leader Lucho Argain. Three years later, they disbanded but reformed 12 years later under a new director, Julio Ernesto Estrada Rincon. Since releasing their breakout single "Mi Cucu," the band has steadily risen in popularity. Today, the group comprises five members: Charlie Alvarez, Tony Peregrino, Osman Ocor, Johanna Betancourt, and Citlalli Moctezuma.
DJ Pereira is a New-York based Colombia DJ who pays homage to his roots and heritage through music. In 2021, he was named DH of the Year in New York City and New Jersey by four different organizations. Meanwhile, 50 Cent has acquired him as a brand ambassador for his product, Branson Cognac. DK Pereira also recently opened for Bad Bunny's concert, where his new single, "Stephanie," became an instant hit.
Fellow New Yorker Juan Camilo Sanchez, a.k.a. DJ Camilo, will also share the stage with these phenomenal Colombia acts. Since the tender age of 12, DJ Camilo has been experimenting with music and working on his turntables. He released his first mixtape in the '90s, titled Camilo Vol. 1. He consistently received wide acclaim from fans, and his monthly mixtapes have earned him a stark reputation as one of New York City's hottest DJs.
Catch these amazing Colombia performers as they deliver their iconic staples at the Fiesta Latina! Score tickets now and see them light up the Bald Hill Amphitheater with their high-energy setlists!