Bald Hill Amphitheater Information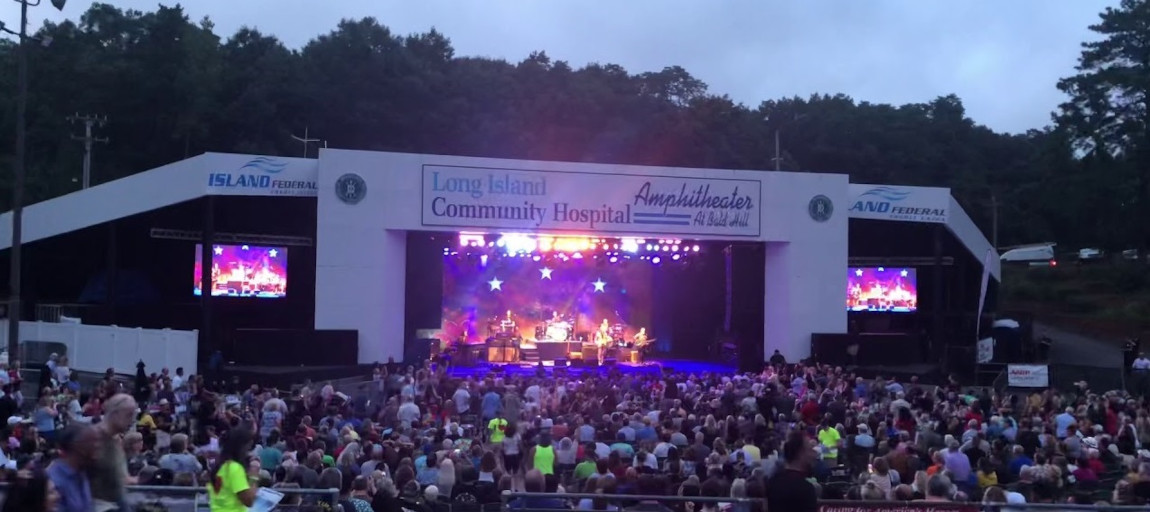 The Catholic Health Amphitheater offers 3,000 allocated seats, and capacity for 4,000 seated on the lawn. This is a community facility, in a friendly and natural environment. All attendees are expected to be polite and considerate.
The staff at Bald Hill are helpful and welcoming, and the whole area is designed for your comfort and safety. You'll be asked to comply immediately with emergency response procedures, or any requests from venue personnel regarding venue operations.
All personnel at the Catholic Health Amphitheater are expected to treat you in a professional, courteous and consistent manner. In return, you'll behave respectfully and refrain from abuse, including using foul language and obscene gestures. If you see anyone behaving inappropriately, please advise the management. Anyone trying to get onto the stage, throwing anything or engaging in fights will be ejected immediately. Anyone behaving irresponsibly when consuming alcoholic beverages will also be asked to leave. Please be nice and help everyone to enjoy the show!
Catholic Health Amphitheater History
Originally built and opened in the late 1980s, the amphitheater stands on the site where many musical gatherings have been held since the '60s. It's been known by several names, including the most recent, Long Island Community Hospital Amphitheater. For many years it was simply called the Brookhaven Amphitheater, then in June 2012 it was renamed the Pennysaver Amphitheater. In April 2023, Catholic Health took over the sponsorship and renamed the venue, in partnership with Long Island Events.
Ever since the 1960s, this amphitheater has played host to a slew of famous names, from a wide spectrum of musical genres. Artists who've performed at the Catholic Health Amphitheater in the past include: Diana Ross, Ringo Starr, B.B. King, Chris Stapleton, Blondie, Toby Keith, Yes, Rascal Flatts, James Brown, Darius Rucker, Pat Benatar, Sam Hunt, Frankie Valli, Cheap Trick, Alice Cooper, Twisted Sister and many, many more.
What Makes Catholic Health Amphitheater Special
Everything about Catholic Health Amphitheater is special, from its great setting to the bands you'll see there. It's well located for easy access from the Long Island Expressway (LIE), aka Interstate 495. You can also get to it from Route 27, the Sunrise Highway. Formerly a ski bowl, family gathering venue and outdoor movie theater, the amphitheater is surrounded by woodland and sits in a natural dell.
The Amphitheater at Bald Hill is amply provided with parking, offering several open lots and a covered space that's also used for swap meets and car shows. Parking fees may vary according to the event. Catholic Health Amphitheater is fully equipped for wheelchair access, with ramps, railings and rest rooms. There's also ADA designated parking, and you can request assistance ahead of time from venue personnel.
Going to Catholic Health Amphitheater is an adventure, where you can camp overnight or have a tailgate picnic before the show. Feel free to bring your barbecue grill and your cooler, but be kind to your neighbors and don't blast out the music. Facilities are provided for disposal of trash, recycling and hot coals, which you must wrap carefully before placing them in the appropriate container.
Who owns the Catholic Health Amphitheater?
The Amphitheater at Bald Hill is owned by the Town of Brookhaven.
For more information on the Catholic Health Amphitheater at Bald Hill see the pages below:
Bald Hill Amphitheater Parking:
Read parking information and directions for the Bald Hill Amphitheater.
Ticket Policies:
Read ticket policies, ticket verification and refund policies.
Bald Hill Amphitheater Seating Chart:
View the Catholic Health Amphitheater at Bald Hill seating map and read related seating information.